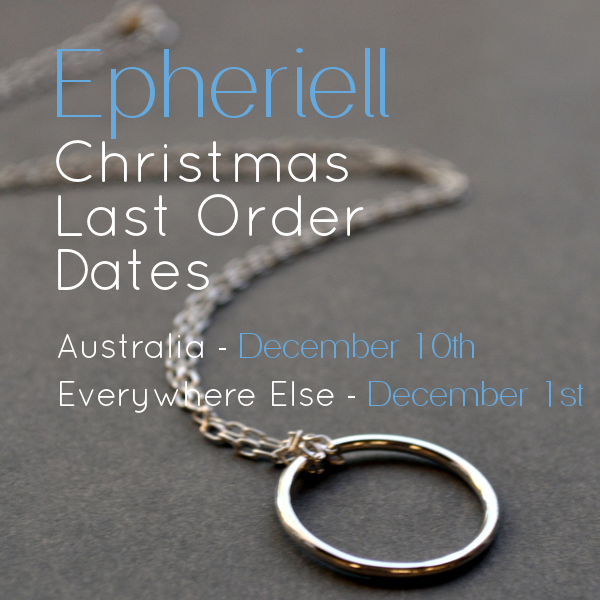 I tell you what – the Christmas rush has definitely arrived! 
Huge thank you to everyone who's already gotten their Christmas orders in – Nick and I are working hard to keep up and get everything out the door on time.
With that in mind, I thought I'd just give you a quick reminder of our Christmas last order dates…Â because for those of you outside of Australia, your order cut-off is this coming Sunday!
______________________________________
*Christmas Last Order Dates**
Australia – 10th December
Everywhere Else – 1st December
You MUST have your order in by these dates to have it delivered in time for Christmas.
______________________________________
If you're stuck on what to buy someone this year, make sure to pop over and have a look at the Epheriell Gift Guide…
Click here to browse the guide…
Oh, also! We'll be taking a break from making from December 15th to December 26th… but at this stage we're planning on leaving the shops open. This may change if we find we're getting too many people trying to buy last-minute Chrissy presents despite our cut-off dates, but we'll keep you informed. No matter which way we go, it means that any orders taken between these dates won't be processed until December 27th at the earliest.
Jess x
P.S. REMEMBER the November Special! (You've got a few days left to take advantage!)
Spend over $100 in-store this month and get a FREE pair of Urban Eco Earrings of your choice (up to a value of $35). That could be an extra Christmas pressie right there (or a treat for you, of course!).