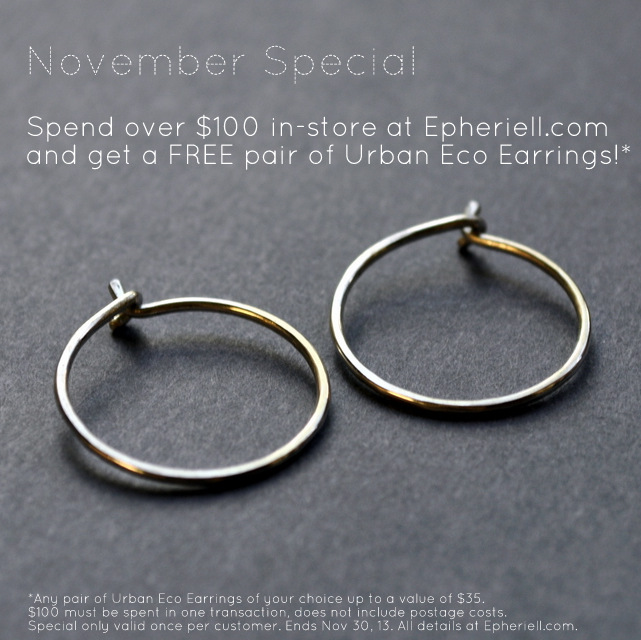 If you're shopping online for Christmas – now's the time to get started.
I know, I know, crazy, but there it is. Especially if you're buying handmade: you need to make sure to leave enough time from when you order for the lovely maker to create your piece, and for it to ship to you.
In celebration of the holiday season, I thought I'd have an extra-awesome special this month. If you plan on buying some Epheriell jewellery for friends or family, you're definitely going to be a beneficiary of the November Special.
If you spend over $100 in-store during November, you get to pick out a pair of Urban Eco Earrings and I'll make and include them with your order… for FREE!*
You're welcome 🙂
To take advantage of this special, all you need to do is browse the Urban Eco Earrings category here, leave me a note in the message to seller box on checkout letting me know which pair you'd like, and I'll include them with your order. (Don't add them to your cart).
I hope you have fun with your Christmas shopping!
Jess x 
___________________________________________
*There are, of course, a few conditions. The pair of Urban Eco Earrings you choose must value no more than $35. The $100 must be spent in one transaction, and it does not include postage costs. This special is only valid once per customer, and only on purchases made at Epheriell.com – no other online or offline venues. Ends Nov 30, 2013.